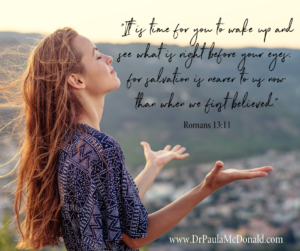 Last night in my women's Bible Study called EXHALE, we arrived at Chapter 13 of Romans. We have been studying the book of Romans chapter-by-chapter, verse-by-verse since early September 2020. Of course, we know that with God, there are no coincidences. However, it still amazes me when He shows up with such confirmation for the times in which we are now living.
The main themes for Romans 13 are:
I. Submitting to Authorities – Romans 13:1-7
II. Submitting to Love – Romans 13:8-14
Submitting to Authorities:
Many people cringe at this part of Paul's teachings as they believe we must obey all authority even if it goes against God's Word. Not true! The Bible tells us in Matthew 28:18, "All authority in heaven and earth has been given to me."  Then, in Acts 5:29, "We must obey God rather than men." As believers, we are to comply with those in leadership yet do not have to bend when asked to do something that goes against God's Word.
What we do know about the government is the following:
All governments have limits.

No government has the right to command anyone to sin.

Believers must act when a government is acting immorally.

Governments do not have the authority to misuse power.


Believers are called to obey Christ first! That said, violence is never the answer. We are to stand up and say, "no" when a governing body infringes its standards that do not align with God. We also need to say "no" to the eroding of family values and standards.
Truth Bomb: Believers in Christ must determine to whom they serve.
The Call to Action: God is calling His people to stand by His truth, His authority, and His power. Will you stand with Him?
II.   Submitting to Love:
Paul leads us from the lessons of submitting to authorities into the lesson regarding love. He doesn't leave us hanging as he brings the focus onto the most important message–love. Romans 12:14 reminded us just one chapter back of this message, "Bless those who persecute you; bless and do not curse."
Here are the facts regarding love:
Love was created by God.

True love is permanent – it never fails and never ends.

Love is in opposition to evil.

Christians have the responsibility and obligation to love others.

We fulfill God's law when we lead by love.
THE BIG MESSAGE IN VERSE 11:
Paul writes, "And do this, understanding the present time. The hour has come for you to wake up from your slumber because our salvation is nearer now than when we first believed."
The big message is this:
The present time is NOW!

Our earthly time is limited.

Get busy for God's Kingdom.

Be alert!
Fellow believers, are you prepared? We can no longer put our heads in the sand and pretend everything is alright. We are to stand up, speak up, and get busy! Do not buy into the blurring of the lines of what marriage is, what gender means, or anything that re-defines what God's Word teaches.
Truth Bomb: Are you prepared for whatever comes your way?
Call to Action: What must you do right now in order to be fully prepared and armed for Christ?
Are you ready to apply these truths in your life? Here are some journal questions to go a bit deeper.
In light of the times we are living in now, what are you challenged with the most as a believer?

What is God calling you to do to stand up for Him?

How are you suiting up in your Amor of God each day?